Today i am loving Frankie new issue #46 with lots of inspiring bits as usual. Also it's my day off today! Hooray!
Frankie latest issue 46 & their Afternoon tea recipe book. (think baking soon!)
Daniel Evans talks about packet cake mixes pg 78-79
Loving this song today...such a hot day!

'Brighter than the sun' by Colbie Caillat
I have it stuck on replay!


Check out more Much Love Mondays over at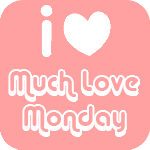 xxx
Happy Monday!